Retrato do poeta Mario de Andrade,
pintura a óleo de Cândido Portinari, 1935
MÁRIO DE ANDRADE
(1893-1945)
MARIO Raúl DE MorAis ANDRADE (1893-1945) was possibly the most influential poet of his generation. He wrote a great number of essays on literature, art, music, and Brazilian folk-
lore. His book of poems Paulicéia Desvairada {Hallucinated City), published in 1922, marks a break with the Parnassian School, and he was one of the organizers of the Modern Art Week. His núvel Macunaima was recently made into a film by a leading
young Brazilian film-director.

Translated , with the help of Yolanda Leite,
by JOHN NIST
MODERN BRAZILIAN POETRY, AN ANTHOLOGY
Bloomington: Indiana University Press, 1962


IMPROMPTU OF THE DEAD BOY

Dead, the rests sweetly among the flowers in his coffin.

There are such moments when we living
This life of interests and struggles
Grow tired of plucking desires and worries.
Then we stop a moment, leave the murmur of the body,
The lost head ceases to imagine,
And oblivion comes sweetly.
Who then can enjoy the roses around him?
The beautiful sight that the car cuts through?
The thought that makes him a hero?...
The body is a veil upon the furniture<
A gesture that stopped in the middle of the road,
A gesture we have forgotten.
Dead, he sweetly forgets among the flowers in his coffin.

He doesn´t seem to sleep, nor do I say the dreams happily;
he is dead.
In a moment of life the spirit forgot and stopped.
Suddenly he was frightened by the noise of tears,
Perhaps he felt a great frustration
For having left life while so strong and so young.

He felt spite and did not move any more.
And how he will not move any more.

Go away! go away, dead boy!
Oh, go away: I do not know you any more.
Do not return at night to flash on my destiny
The light of your presence and your desire to think!
Do not offer me again your courageous hope,
Nor ask of me the shape of the Earth for your dreams!

The universe bellows with grief at the flaming of fires,
The terrified alarms cross in the air,
And my peace is enormous and unbearable!
My tears fall upon you and you are like a broken Sun.
What freedom in your obilivion!
What firm independence in your death!
Oh, go away: I do not know you any more!


ASPIRATION

The sweetness of poverty like this…
To lose everything your, even the egoism of being,
So poor that you can only belong to the crowd…
I gave away everything mine, I spent all my being,
And I possess only what in me is common to all..
The sweetness of poverty like this…

I am not lonely any more, I am dissolved among equal men!

I have walked. Long my way
The emphatic mark of my steps
Remained on ground wet with morning dew.

Then the Sun ascended, heat vibrated in the air
In golden particles of light and warm breath.

The ground burned and hardened.
The mark of my feet is now invisible…
But the Earth remains, the tenderly dumb Earth,
And growing, grieving, dying in Earth,
The always equal men remain…

And I feel larger, equalizing myself to the equal men!...


VARIATION ON THE BAD FRIEND

At least, we are no longer friends.

You walk easily, lightly,
In the labyrinth of complications.
What subtlety! what dancing grace!...
It is true that there always remains
Some dust from your wings
On the branches, on the thorns,
Even on the blossoms of that wood…
And I also noticed several times
That your wings are ragged at the edges…
But the essential thing, the important thing,
Is that despite the raggedness you can still fly.

I am not like that.
I am heavy, I am rather clumsy,
I have no wings and not much breeding.
I need a broad and straight road.
If I lack space, I break everything,
I get hurt, I get tired… I finally fall.

In the middle of the wood I stop, unable to go on.
I cannot stand it any longer.

You… you may still call me a friend…
Although you lose a bit of your wing,
You sit on my thorn bush and can still fly.
Yet I, I suffer it is true,
But I am no longer your friend.
You are friend of the sea, you are friend of the river…


THE MOUNTAINS FO ROLLING-GIRL

The Mountains of Rolling-Girl
Had not that name before…

They were from the other side,
They rode to town to marry.
And they crossed the mountains,
The bridegroom with the bride,
Each one on a horse.

Both of them were happy,
In the heavens all was peace.
Along the narrow trails
He rode ahead and she behind.
And they laughed. O how they laughed!
They laughed for no reason at all.

The Mountains of Rolling-Girl
Had not that name before.

The red tribes of evening
Rapidly rode away
And hurriedly hid themselves
Down down in the caves,
Afraid of the coming night.

But both of them continued,
Each one on a horse,
And they laughed. O wow hey laughed!

And their laughter married
With laughter of the pebbles
Which leaped so lightly
From the narrow path
Towards the precipice.

Ah, Fortune inviolate!
One hoof has stepped in error.

The bride and her horse vaulted
Headlong down the chasm.
Not even the thud was heard.
There is only the silence of death.
In the heavens all was peace…
Spurring and whipping his horse,
The bridegroom vaulted headlong
Into the void of the chasm.

And the mountains of Rolling-Girl
Rolling-Girl were named.


MOMENT

The wind cuts everything in two.
Only a wish for neatness binds the world…

There is sun. There was rain. And the wind
Scatters trombones of cloud in the blue.

Nobody can be whole in the city.
The doves cling to skyscrapers, it rains.
It is cold. It is heartache… It is this violent wind
That bursts from the caves of human earth
Demanding sky, peace, and a touch of spring.


STREETS OF MY SÃO PAULO

Streets of my São Paulo:
Where is the living love,
Where is it?

Roads of my city:
I run after my friend,
Where is he?

Streets of my São Paulo:
Love greater than food,
Where is it?

Roads of my city:
An answer to my request,
Where is it?

Streets of my São Paulo:
The fault of the restless one,
Where is it?

It must be in the past:
In the damned centuries,
There it is.


THE MAN WHO WALKS ALL ALONE

That man who walks all alone
Along those squares, those streets,
Ha in himself an enormous secret.
He is a man.

That woman like all the others
Along those squares, those streets<
Has in herself a cruel surprise.
She is a woman.

The woman meets the man,
They smile and hold hands,
The surprise and the secret expand
Violently.

But the shadow of the restless one
Guards that mystery in the dark.
Death watches with her scythe.
Verily, it is night.


SONG OF THE CORNER

A little before noon
I felt she was coming. I waited.
She came. She passed. I was as though
The Moon had passed
Along this strange path
I have walked since birth.

The all-green belljar
Of my breast darkened.

Night of kindhearted May.
There goes the Moon passing by.
There is indeed a refraction
That winds round my neck
The scarf of the Milky Way
And the Moon over my hand.

Bur when I seek to enjoy
The beautiful touch of moonlight,
And stroke with my hand my fingers…
I have to admit my delusion.
It was the lie of the senses,
It was the dew. Nothing more.
It came. I passed. It was as though
The Moon…

I sigh and am a child again.
— What do you want, Mario? — Mother,
I want the Moon! — Impossible today,
She has already gone. Be patient,
I will give you the Moon tomorrow.

And I wait. You wait… He waits…\

Oh, beans!


MOMENT

Somewhere near, a rose-tree must be blooming,
I don´t know… I feel in myself a harmony,
Some of the disinterest that fatigue brings.
I look at my hands. And a dangerous tenderness
Makes me touch them with my lips, lightly,
(It must be some rose…)
Tenderness that is no longer dangerous, no, patient pity.
The roses… The millions of roses from São Paulo…
I have so often seen my hands work,
And strike in fun the back of a friend,
Give themselves to enemies, and pick up money
from the ground…
Once my fingers rested on two lips,
And I wished I were blind at that moment!
She did not kiss my finger tips,
She kissed my hands, with passion, in submission…
She kissed the dust of my hands…
The same dust that drifts on the rose as it opens.
Somewhere near, a rose-tree must be blooming…
What harmony in me… How like a garden…
My body is healthy… My soul went away..
And left me.
RONDEAU FOR YOU

To Couto de Barros (1924)

From you, Rose, I do not like
To accept only this slow hug
That you this moist kiss
That you give me…
I do not for a single reason:
From everything you tell me
I see that in your breast
Sobs the well-made heart
of you.
And then I imagine
That together with the slender body
The dark little body
That you give me
Together with your loveliness
The maddening charm and laughter
That you give me
It would be something if I too owned
What hides behind your face, Rose:
The thought, the soul, the grief
of you.
From POEMAS OF THE WOMAN FRIEND

I
The sun was setting in my eyes
And the flight of the hour surrendered me April,
A familiar taste of goodbye nourished
An air and, I don´t know why, I saw you.

I turned me into a flower. But it was scarcely
your memory.
You were away, sweet friend; and I saw only
in the profile of the city
The strong archangel of a pink skyscraper
Beating his blue wings against the twilight.

II
Maybe if we had kissed one time only…
Yesterday you were so beautiful
That my body drew near.
I know it was a brook and two hours of thirst,
I bent down, |I did not drink.

But I have remained the same until now,
Watching four or five yellow butterflies,
Ordinary ones, floricking in air.
I hear a sound…

III
Now it is April, oh my sweet friend,
You leaned over me, like the truth,
I tried to turn and I fixed my face to your body.

We mastered ourselves and put everything in its place.
The sky resumed its position over the earth,
The orange trees all stood up
And in them we made the first sabiá sing.

But the landscape soon went away
Slamming the door, terribly scandalized.


THE GIRL AND THE GOAT

The girl fights to pull the goat,
Totally terrified, sliding on the pavement
Among the bells of the streetcars
And the speed of the dusty automobiles.

…A whole herd of goats…
The goats graze on the mid-day grass…
And in the dead solitude of the mountain
Not a single sound of a car horn.
Ugly dog with big eyes hidden in his hair,
Near he stones moved by the little lizards,
Where the hot sun flounders in the troubled water,
Fixes his teeth in the golden cheese
Licias, the herdsman.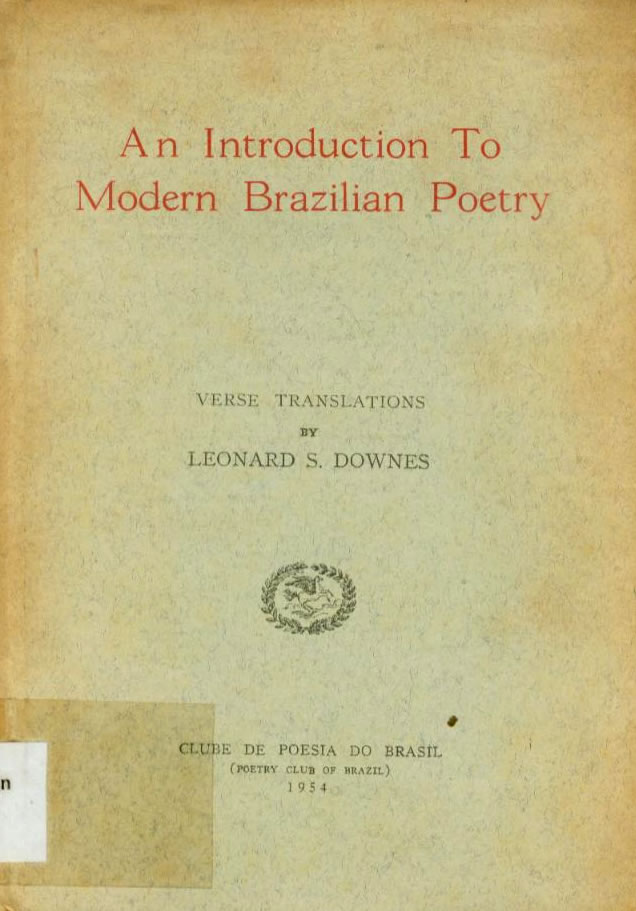 AN INTRODUCTION TO MODERN BRAZILIAN POETRY. Verse translations by Leonard S. Downes. [São Paulo]: Clube de Poesia do Brasil, 1954. 84 p. 14x20 cm. " Leonard S. Downes " Ex. Biblioteca Nacional de Brasília.
MOTHER
Mothers have existed,
And this is quite a problem.
For, so they say, one´s mother
Upsets all sorts of things;
´Tis true she takes on her
Our sins and our mistakes
And it would be much better
If there weren´t any mothers.
However that may be,
When one is finding life
Most difficult, most live,
There´s no one like a mother.
For putting up with us,
Letting us hide our face
In her familiar lap.
"What is the matter, son?"
Of course she knows all right
And yet she asks her question
Pretending she doesn´t know.
Who tell her all sorts of lies,
Which she affects to believe,
And so your sorrow becomes
A mystery between you two.
Do you not see that no lover
Nor other woman alive
Ever sill understand
The truth that we confess
Behind the screen of lies!
Really only a mother…
Really only that lady
Who even while she is holding
Her son´s hot, angry face
Lovingly to her breast,
Pressing against her body,
While smelling his personal odour
Yet still remains a virgin
As does her son as well…
O virgins, give yourselves,
That you may have the right
To that virginity
Which only mothers have!
MOTHER
My life is one to-day, ´tis clear to see,
Of happiness unrelieved: I cannot say
If I enjoy it, since enjoyment may
Only be judged by pain and misery.

I know that all´s illusion, vanity,
But still I choose Illusion… Still dare say
Life is the precious boon which everyday
I have adored. This was my sin. ´Twould be
Unthinkable, with age alone to spend,
With self complete and able to take breath,
To cling to this umprofitable strife.
I pin my every hope upon my end.
Come, sleep! I hope that I may welcome death
As gullibly as I have welcome life.


Página publicada em janeiro de 2008; ampliada e republicada em agosto de 2015.